In Memory
Joan Tully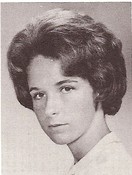 The generous bequest to fund the Tully Center for Free Speech came from Joan A. Tully, a 1969 alumna of the Newhouse School. She once described herself as a journeyman journalist. But she was far more than that. Her career spanned the worlds of media, law, and business.
At Syracuse University, she worked at The Daily Orange. She once remarked that she would never forget her first story – students struggling to keep good grades to avoid being drafted for the Vietnam War. She worked her way up at the Daily Orange to the position of features editor.
Her professional career began at the AP Dow Jones Newswire in New York City. She went on to create a new home-furnishings magazine and later edited weekly newspapers in New Jersey.
In the mid-70s she lived in Belgium where she was the Managing Editor of the Brussels Times. She freelanced on projects ranging from a cartoon strip about quality control for Levi's jeans, an article on environmental issues, and publications about multinational corporations. For most of her professional life she used her married name, Joan Infarinato.
In the 80s, while a senior editor at Ladies Home Journal, Joan attended Fordham University School of Law. As member of the Fordham Law Review, she wrote an article on copyrighting transitional works of art, reflecting on artist Christo's running fence and styling photographs in magazines. She completed her law degree in 1983 and joined the prestigious law firm of Cahill, Gordon & Reindel to specialize in First Amendment issues.
After practicing law in New York and Boston, she moved to Bucks County, Pennsylvania, where she worked in real estate and began an antique-textile business.
Joan Tully loved designing and maintaining gardens, actively supported farm preservation, and never missed reading The New York Times. In 2005, at the age of 58, she died of a brain tumor.