In Memory
Shirley Swanson (Cummings)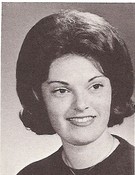 The Inteiligencer
Shirley J. Cummings
Shirley J. Cummings of Buckingham Township died Thursday, May 12, 2005, in the Hospital of the University of Pennsylvania. She was 57.
Shirley was the loving wife of Stephen R. Cummings.
Born in Quincy, Mass., Shirley was the daughter of Carol A. and Edna L. Ribbe Swanson of Cromwell, Conn.
Born and raised in New England, she was a graduate of Needham High School and Chandler Business College in Boston, Mass. She and her husband moved to the Central Bucks area in the late 1970s.
Shirley was faithful and devoted to her Lord Jesus Christ and celebrates today in paradise. She was completely dedicated to her family, friends and church and can best be described as the ultimate caregiver. In spite of her chronic health problems, she found strength in her faith and touched the lives of countless persons by volunteering her time to help those less fortunate.
Shirley will always be remembered for her love of life, her serving heart and her positive outlook on life. One of her most favorite sayings and mottos was "onward and upward" which is exactly how she lived.
In addition to her husband and parents, she is survived by her son, the Rev. Douglas S. Cummings and his wife, Cindy, of Londonderry, N.H.; her daughter, Linnea S. Cummings of Swampscott, Mass.; two brothers, Robert Swanson and his wife, Judy, of Medfield, Mass. and David Swanson and his wife, Sheree, of West Yarmouth, Mass.; and two grandchildren, Benjamin and Elizabeth Cummings. A grandson, Nathan Cummings, preceded her in death.
Relatives and friends are invited to her celebration of life service at 1 p.m. Tuesday, May 17, in Doylestown Presbyterian Church, 127 E. Court St., Doylestown. The family will greet friends following the service in the church fellowship hall.
In lieu of 1IoweIs, contributions in her memory may be made to American Diabetes Association, One Plymouth Meeting, Suite 520, Plymouth Meeting, PA 19462-1316.
8/31/2005